Home - News - Bond - Disney - Sweden - SciFi - Europe - 1960-69
What are lobby cards, lobby card sets, and stills?
Lobby cards are large photos or prints from a film. They are produced by the movie companies as advertising material for the lobby of movie theaters in many countries A lobby card set usually has 8-10 different cards from a film.
You can find more information about lobby cards in the text below. Or go to our list with 1500 lobby card sets for sale.
Lobby cards come in many different sizes and styles:
U.S. Lobby Cards 11x14"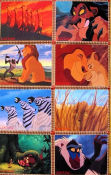 The Lion King 1994
Size 11x14" (28x36cm)
U.S. 11x14" sets have between 6 and 12 different cards. The cards are large, like small posters, and are usually printed on thick quality paper, glossy and colorful. Many of the most beautiful sets are 11x14".
8x10" lobby cards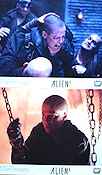 Alien 3 1994
Size 8x10" (20x25cm)
8x10" sets are printed in the USA, sometimes in England, and have between 4 and 10 different cards. The cards have the same apperance as a 11x14" card, but smaller in size. Images may differ between 11x14 and 8x10 sets from the same film.
Swedish Lobby Cards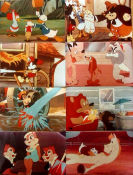 Donald Duck shorts 1965
Size 7.9x11" (20x28cm)
Swedish lobby sets have between 8 and 40 different cards. The cards are printed on thick, glossy photo paper, and look exactly like photos. The name of the film usually appears on the bottom of the card with the distributor (like MGM/UA above). The title is in Swedish.
A Swedish lobby set with many photos is a beautiful addition to any lobby collection.
French Lobby Cards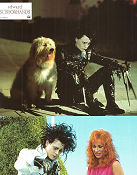 Edward Scissorhands 1990
Size 8.4x10.7" (21x27cm)
French lobby sets have 6, 8 (standard), 10, or 12 cards. Up to three sets with different images may exist for the same film, usually labelled Set A, B, and C. The cards are printed on thin, glossy paper. The name of the film is usually printed in a white box in a corner. The title is in French.
German Lobby Cards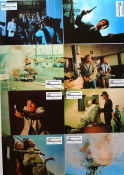 The Enforcer (1976)
Size 8.3x11.6" (21x29.5cm)
German lobby sets have 8 or more cards. The cards are printed on thinner paper. The name of the film usually appears in a box in a corner. The film title on the card is in German. A few Swedish sets are printed like this.
Stills photos

Persona (1966)
Size 8x10" (20x25 cm)
Stills and filmphotos are different from lobby cards. They are in glossy black and white, exactly like a photo, the size is mostly 8x10". They were used outside the theater in Sweden, but also mailed to different newpapers as campaign material for a film.
Condition
We use the following grades for lobby cards and stills:
MINT = perfect in every way
NM = "Near mint", never used, close to mint, may have rounded corners or tiny creases
FN = "Fine", average condition, has been used and may have pinholes in the corners, small tears and creases in the borders, folds, small stains
GD = "Good", acceptable, may have tears, folds, stains, tape on back, small pieces missing
PR = "Poor", bad condition, should be restored.